Request Demo
Drop us your details we will get back to you soon!
FMCG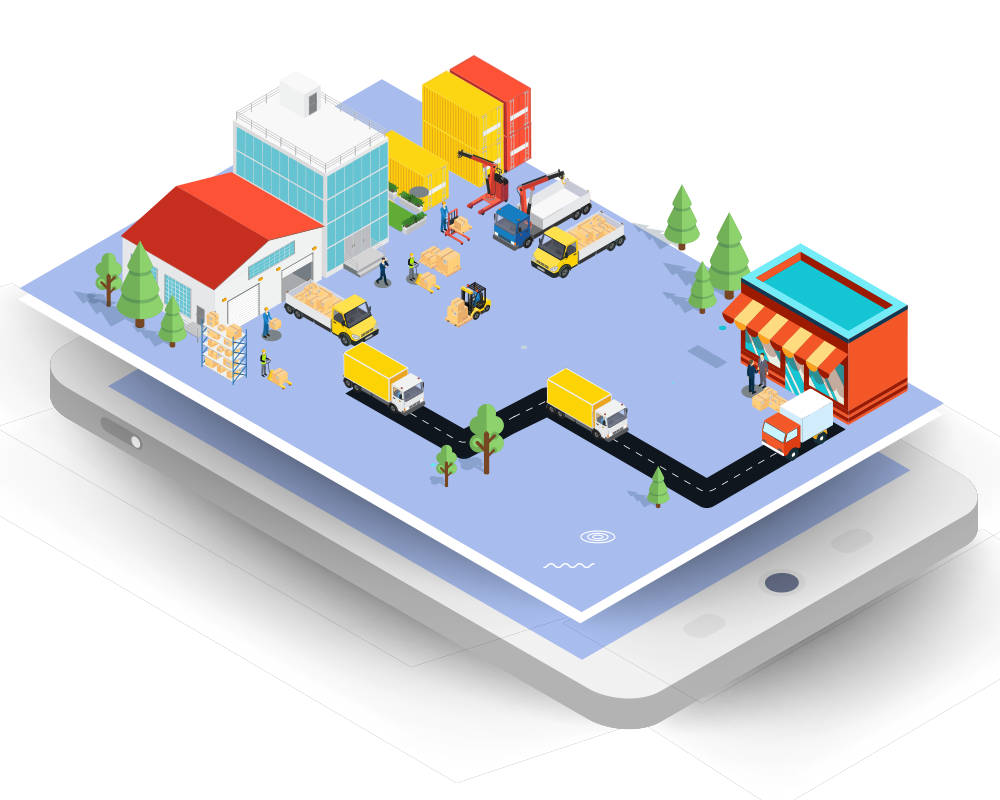 Why is an
FMCG sales app

important for your business ?

Struggling with disorganized order and distribution activities? Say bye to the old-fashioned calling and emailing order assignment strategies! Systematize, streamline and organize your order placement and distribution processes with a customized FMCG sales app. A perfectly customized FMCG sales app is all that you need to streamline your FMCG sales and distribution activities. A flawlessly implemented FMCG sales app empowers companies functioning with multiple distributors in managing sales, finance, inventory, orders, and sales team tracking all in one go.
What is Fastfokuz ?
Does your FMCG business deal with huge sales orders? Are you in the hunt for a system to help you systematize your confused sales and operations teams? Big or small, dealing with FMCG demands your team to be on their feet to streamline and stabilize primary and secondary targets and to ensure the smooth running of the network. Effective and customizable FMCG sales CRM is just and all that your team needs to rectify the bottlenecks and streamline your FMCG sales process. We understand your woes and so our team has come out with an effective FMCG sales app Fastfokuz – a combination of a web-based control panel and mobile-based application to streamline and organize streamline the sales process, manage orders, inventory, distribution, and payment in the FMCG sector.
How Fastfokuz works ?
In a dense distribution network, it is certain for businesses to come across multiple issues from scattered databases to delayed distribution. Here is how Fastfokuz, a customizable FMCG sales app will be assisting in streamlining your business.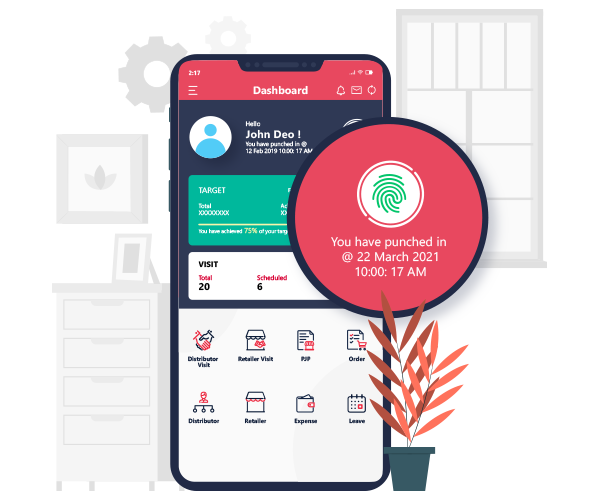 Single Tap Attendance Marking
With single tap attendance marking, executives can mark their attendance just with a single tap from their devices. Executives no longer need to their respective offices to mark their attendance. It can be done through their FMCG sales app - Fastfokuz. In unison, sales managers can also access and monitor the team's daily attendance from anywhere at any time.
Route Management
Managers can strategically plan, categorize and assign routes to the executives to cover a maximum number of shop visits in one go. Even the executives can select the route to reach out to the maximum extent of clients on the go. In short, executives can cut down unwanted delays by cutting down extra miles of drives.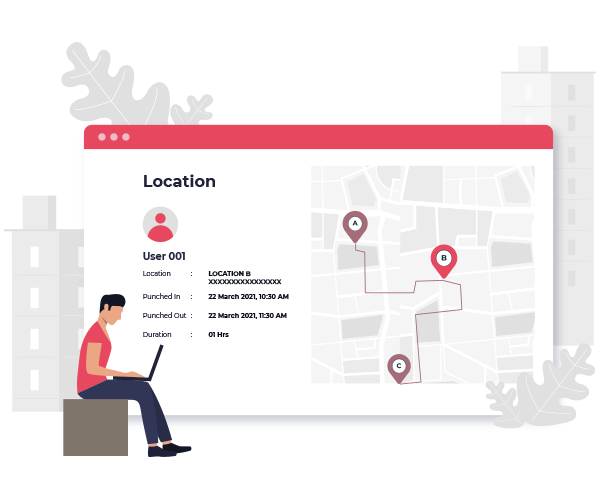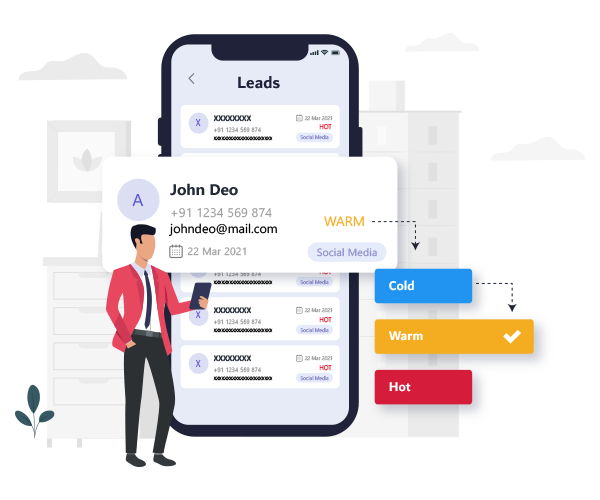 Real-Time Lead Status Updations
Tired of waiting for MIS reports from your sales team? Now, managers need not wait till the end of the day for a work status update from their field sales team. As the executives update their lead status in the FMCG sales app, managers get time-to-time updates of the activities on their web dashboard. So, the perfect combination of web dashboard and mobile application enables real-time status update of activities without the need of waiting day long for reports.
Takes Orders Over Device
Hinder inaccurate and duplicate orders! Make your order management seamless with a customized FMCG sales app. Empower your field executives to take orders over their mobile app, thereby making order placement error-free. The managers on the other hand get notified of these orders in real-time enabling them to proceed further with accurate data.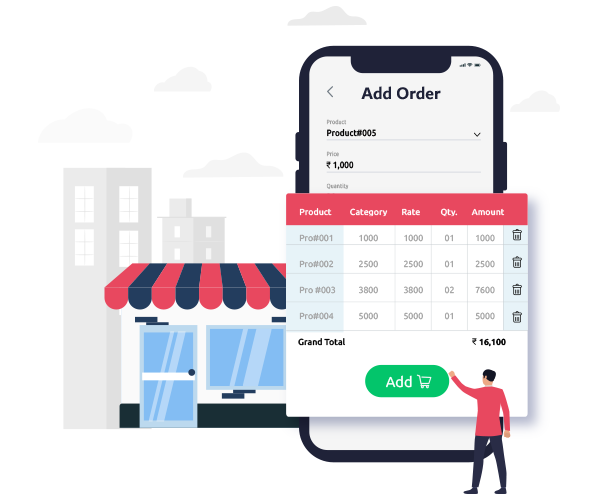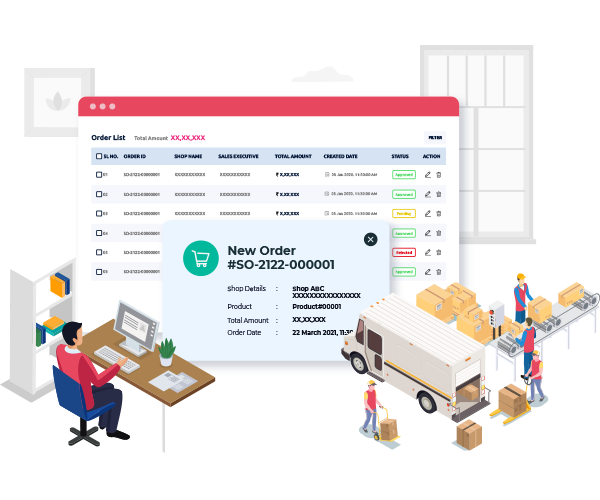 Instant Update & Dispatch
Make your order management instantaneous with your customized FMCG sales app! The real-time data update of orders to the central database enables the managers to deploy them to the processing station concurrently. This real-time association between field executives and the back office makes order processing and dispatch systematic, efficient, and instantaneous, thereby leaving no room for errors.
Cuts-Down Unwanted Delay
No more unwanted delays in order processing! From order placement to delivery, make the process systematic using a customized FMCG sales app. With every data updated in the central database, managers can directly access the order details and proceed with the distribution process without the need of waiting for the executives to return with orders taken for the day.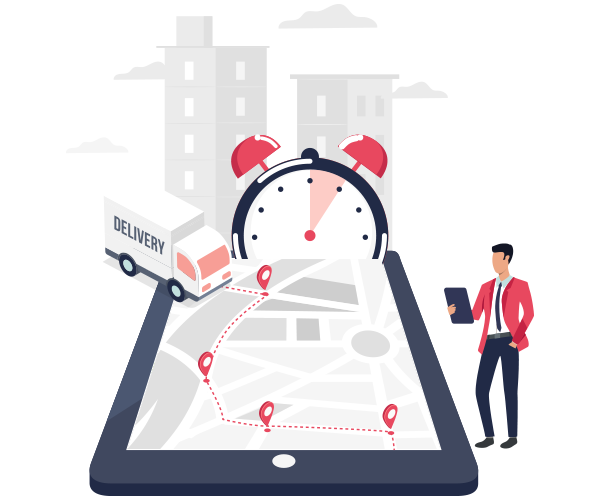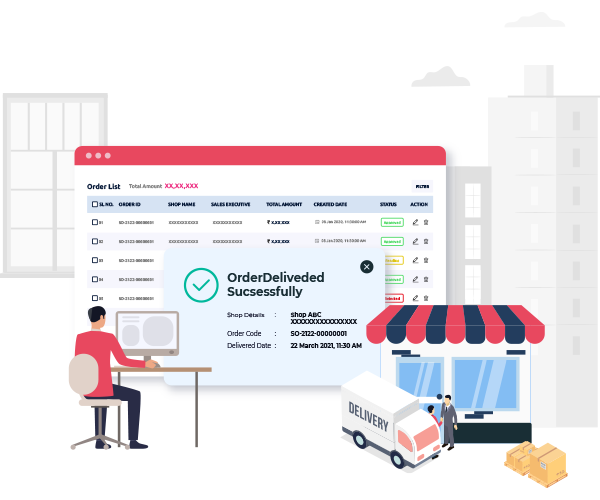 Timely Delivery & Status Update
The systematic and organized way of order placement and distribution encourages timely delivery of the products to the customers. Once the orders reach the targeted destinations, managers get updates of the same on the web dashboard. In short, the perfect combination of mobile application and web dashboard makes the process effective, efficient, and fast.
Other Features
Empower your sales teams with multiple easily configurable features
Capture Leads from Multiple Platform

Personal Journey Plan

Distributor Visits & Management

Targets Management

Stock Management

Expense Management

Leave Management

Real-Time Location Tracking

Automated Reports

Instant Notification
Capture Leads from Multiple Platform
Capture Leads from Multiple Platform
Still worried about losing potential leads to your competitors? Worry no more! Online or offline, irrespective of the platform, Fastfokuz, your highly customizable FMCG sales CRM enables you to capture distributors from multiple sources and helps reduce distributor leakage to zero. Be it through Facebook or web forms, all the lead requests placed will be directly updated in your customized FMCG sales app. This enables your team to instantly access lead data and helps proceed further before your competitor does.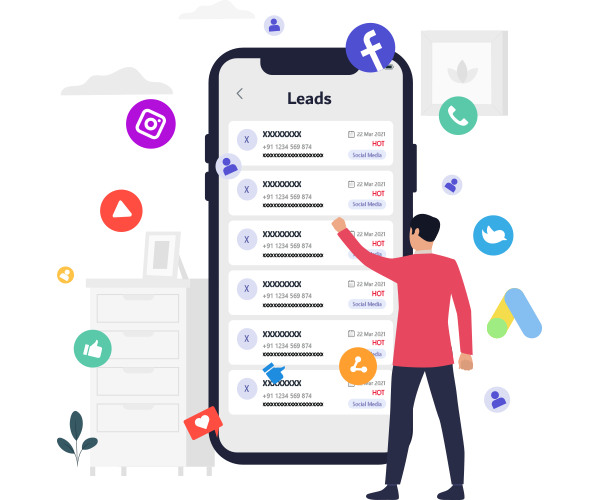 Personal Journey Plan
Personal Journey Plan
How systematized are the beat plans of your field sales team? Do you think well-organized journey plans can impact the performance of your team and business? Yes, it does, particularly in coordinating the field activities. Fastfokuz, your customizable FMCG sales app identifies the importance of a planned journey and empowers the managers and the field executives in creating personalized journey plans that work well and yield results. Through the PJP feature, managers can list down the assignments for the executives to perform in the upcoming days based on the priority level. Even the executives can choose the route and create PJPs that work well and cut down unnecessary travel time.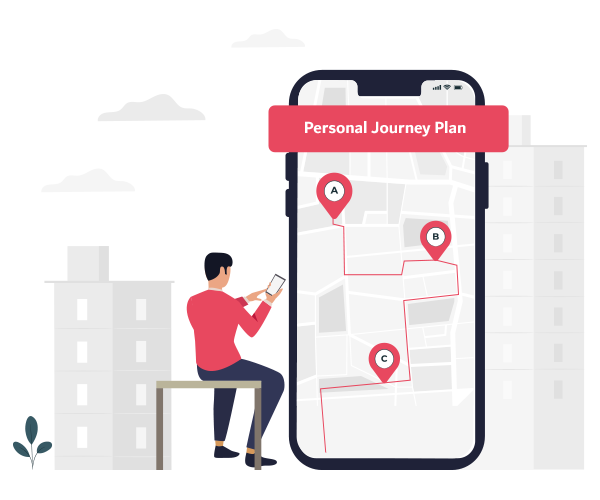 Distributor Visits & Management
Distributor Visits & Management
Does your business involve multiple distributors and sales activities? Fastfokuz, the FMCG sales app allows you to manage your distributors and functionalities through a unified platform. Wondering how? From marking the presence at the distributor's place to the collection of orders, payments, and feedback, everything can be done through this FMCG sales app. As the field executive updates the distributor visit details to the mobile application, the managers using the web dashboard receive all the updates in real-time.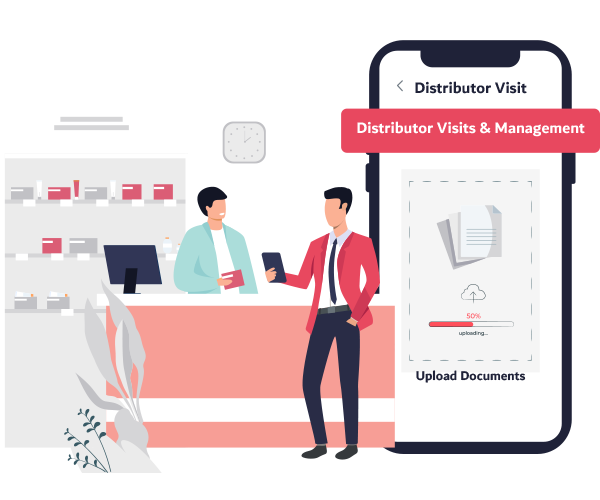 Targets Management
Targets Management
Assigning targets has become easy than ever. The target management feature of the Fastfokuz FMCG sales app enables managers to assign targets through the web application which will be updated to the executives in their mobile application. Vice versa, as the executives achieve their targets, managers can view the status and reports of the same through the web application. No more phone calls are required for target updates, managers can view them in real-time and reward the performers with transparency.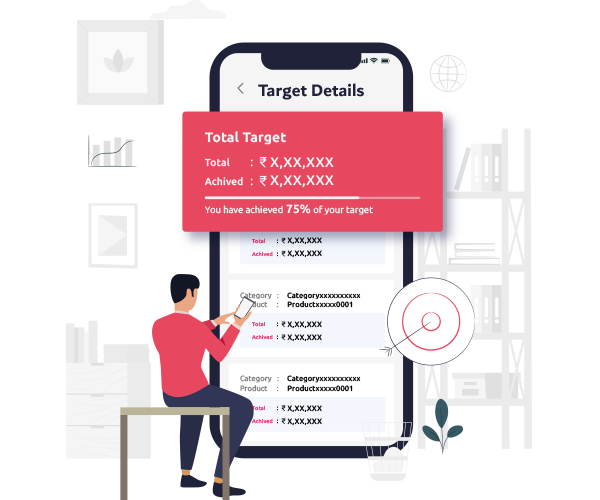 Stock Management
Stock Management
Has going out of stock become a regular concern in your business? Then go get the customized FMCG sales app that not just assists in stock management across multiple distributors but also notifies you as the stock reaches a threshold level. From manufacturing, selling to restocking all these associated activities can be tracked and managed across multiple distributors or dealers through a single platform. Get your customized version of Fastfokuz today!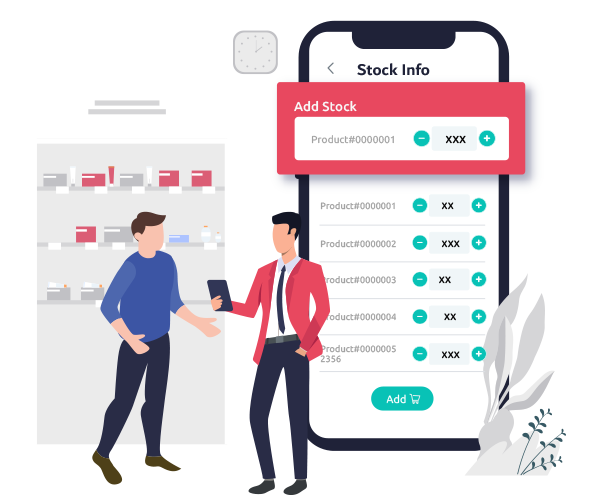 Expense Management
Expense Management
How transparent is the expense management system of your business? Not just orders and payments, your executives can now update their daily expenses in the same application. Executives can capture and upload their expense receipts into the central database for the managers to view and approve. So, make the expense claim and management process transparent using the FMCG sales app, Fastfokuz.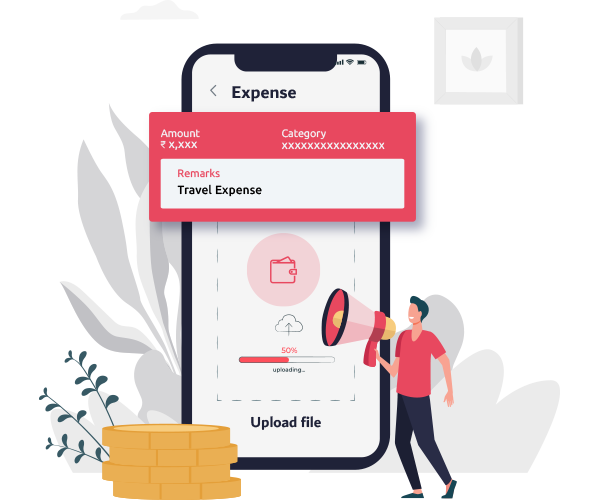 Leave Management
Leave Management
Failing to respond to leave requests on time? Managing leave requests and approval through emails has now become a traditional method. Juggling between excel sheets and mails often leads to loss of information. But now, with all the features integrated into a single platform. Yes, using the FMCG sales app, executives can update their leave requirements in the mobile app. Mangers on the other end get notified of the same in their web dashboard enabling them to approve/reject the leave request through the same application.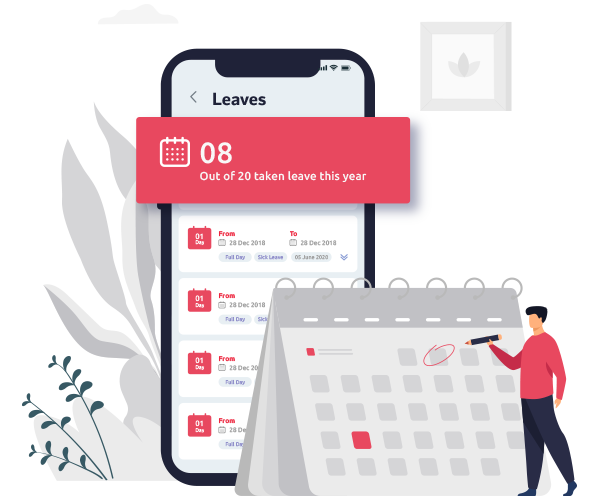 Real-Time Location Tracking
Real-Time Location Tracking
Location tracking in the FMCG sales app facilitates managers to know the live location of their executive. Once the executives mark attendance from their devices, managers get updates of their location accurate up to every 15 minutes. This feature enables the managers to analyze the journey progress of their executives in real-time. Also, it helps managers assign urgent requirements of the dealers/distributors to the nearest executives based on their then location. In this way, it prevents losing potential leads to your competitors.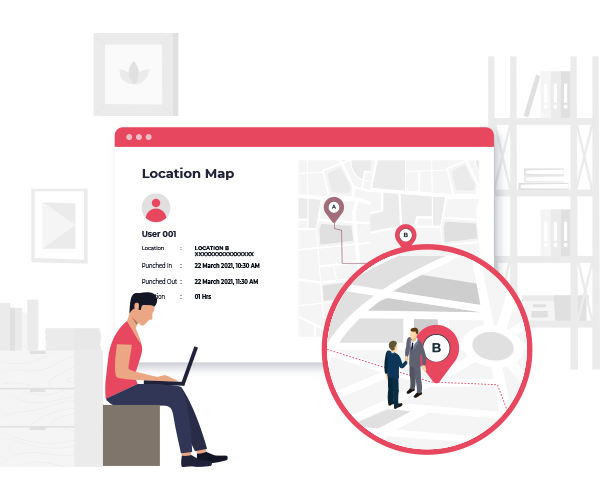 Automated Reports
Automated Reports
How long do you have to wait to get MIS reports from your sales team? Till the end of the day? The wait is now over. Through the web dashboard of the FMCG sales app, managers can now seamlessly access real-time updated reports of all the activities without the need of waiting for the executives to create and send. As the executives update the data of their sales activities, automated reports get generated based on the data upload thereby empowering the managers to make informed decisions.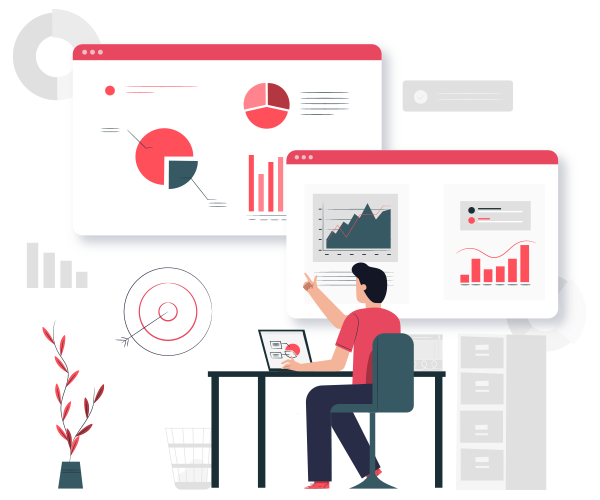 Instant Notification
Instant Notification
Never miss out on any activity! With the instant notification feature of the FMCG sales app, managers can stay updated on the activities happening. From placement of order to collection of payments, managers will be notified as the executives update the status in their mobile apps. The reminder notification on the other hand keeps the executives updated upfront of the meetings scheduled. With instant notifications, managers and sales teams can establish is better communication.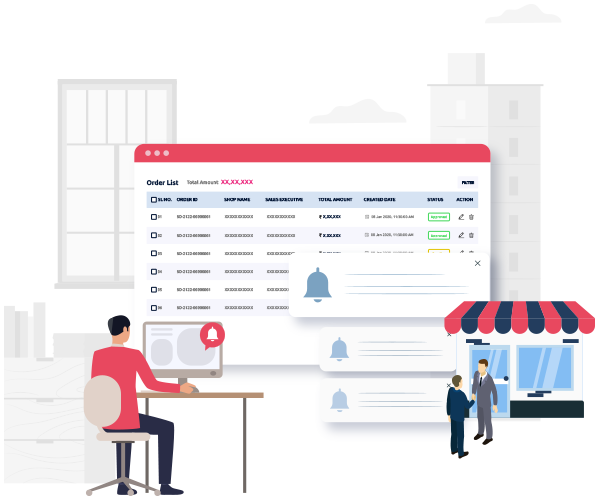 FAQ
What is the purpose of CRM for FMCG Companies ?

CRM software is identified as an integral part of an organization irrespective of its size and operations. FMCG companies rely upon sales CRM solutions for managing the high volume sales and automating all sales processes. FMCG sales CRM automates the business process that streamlines the business and other distribution channels. Transparency in the dealings of sales helps the companies to achieve a high volume of revenues.

The features of Fastfokuz sales CRM are listed as follows;

Location tracking
Distributor and distributor visit management
Target management
Route management
Collection management
Stock management
Order management
Shop visit and management
Personal Journey Plan
Expense Management
Feedback management
Attendance management
Leave management
Report management

All these sales force automation features are enabled to monitor each activity in real-time for the FMCG industry. The purpose of sales force automation is to provide a complete analysis of the business processes in real-time for a better engagement.
What does FMCG software do ?

FMCG Industries adopted FMCG sales CRMs as a large level to increase sales and productivity. Sales CRM software can do multiple things with FMCG networks, from raw material collections to after-sale dealings. The workflow of FMCG industries involves a chain of actions that includes both office works and field sales. FMCG sales CRMs act as a unified platform for incorporating all these functions under a single roof that can be accessed from anywhere at any time. FMCG sales CRMs promote the action of sales force automation that helps in managing the end-to-end process pipeline. FMCG sales CRM solutions monitor entire sales activities, such as order management, distributions, productions, feedback collection, etc. through this single platform. Instead of going for the traditional sales methods like order collection via phone calls and messages, FMCG sales CRMS helps you make the deals systematically and affectivity with sales force automation practices.

Let's have a look at how it works?

Sales executives can punch in through their mobile devices at the beginning of the day.
Order management facility allows executives to manage all activities like managing the orders, sales, finances, and feedback to be done through a unified platform.
Streamline new orders and order placements through sales force automation.
The system of distribution management doing follow-ups for the order placement and delivery of items.
Feedback management practice supports and smoothen customer relationship and improve the quality work environment.
Is FMCG software necessary for businesses?

FMCG CRM software is necessary for every FMCG industry as it can help you automate and streamline your business. Irrespective of the size and location, CRM sales apps enable you to manage a high volume of sales through a unified platform. Real-time access to the status of sales and distribution is another advantage of using FMCG sales apps. It can bring out transparency in business deals and speed up other processes. This virtual platform promotes better communication with the team members about the leads, orders, distribution, customer feedbacks, etc. when it is needed. Effective management of time, quick delivery, after-sales services, excellent customer services are also some other features of FMCG sales apps all are relevant for running a business error-free. Instead of using traditional sales methods, sales CRM apps can help you finding more orders and closing more deals efficiently.
How will one benefit from FMCG CRM software?

FMCG CRM software is helpful for us in many ways. By enabling sales force automation, mobile CRM applications are supports to sustain a strong business-customer relationship. It facilitates the management of new customers, customer care support, better communication, and tracking of all vital information. Apart from these features, the user of sales CRM gets benefited from closing more deals in the business. Marketing assistance, contact management, automation of tasks, after-sale support, and estimating better turnover time and conversion rate are some great benefits one can enjoy with using FMCG sales CRM applications.
Which Companies need FMCG software?

FMCG sales software is an effective business strategy on which we can depend for enhancing the business deals and business growth. Most of the companies in the FMCG industry are often facing difficulty in managing the sales and production activities properly. The most common problems faced by FMCG companies are listed as follows;

Scattered and inaccurate databases
Delay in order collection and distribution
Mismanaged sales team
Communication Loopholes
Lack of proper assistance in field works

If any organization is facing these troubles in their business management, they can go for FMCG sales apps for a better engagement in business. The sales force automation by CRMs helps this organization to align all activities properly.
Key Challenges for FMCG Industries ?

FMCG sales apps have become an inevitable part of FMCG companies, and Fastfokuz is widely accepted by thousands of customers from across the world. Sales force automation helped many companies to increase the revenue by multiple folds, and its features have helped entities manage time and invest money in other areas of the business.

Fastfokuz covered all areas of FMCG, such as order management, live location, attendance management, delivery and production management, distributor to distributor visit management, and many more. However, some areas are still improving their features by adding more technical tools for giving a better engagement for the customers and this will become ready very soon.
Why FMCG Industry Associated

Fast Moving Consumer good is a large marketplace where selling the goods for daily and family needs. Many FMCG industries have adopted sales force automation as an effective business strategy to improve the business. Sales force automation impacts the field force and productivity in many ways. Enhancing better communication, tracking, and connecting business activities, live location, better turn over time and conversion rate, feedback collection, etc., are some great sales force automation practices that can bring out revolutionary changes within a business platform. Thousands of entrepreneurs have identified the benefits of using FMCG sales CRMs and they adopted this business strategy as a necessary tool. For sure, the future of FMCG industry business activities is firmly bonded with sales force automation.