Request Demo
Drop us your details we will get back to you soon!
Why is sales tracking software important for your business?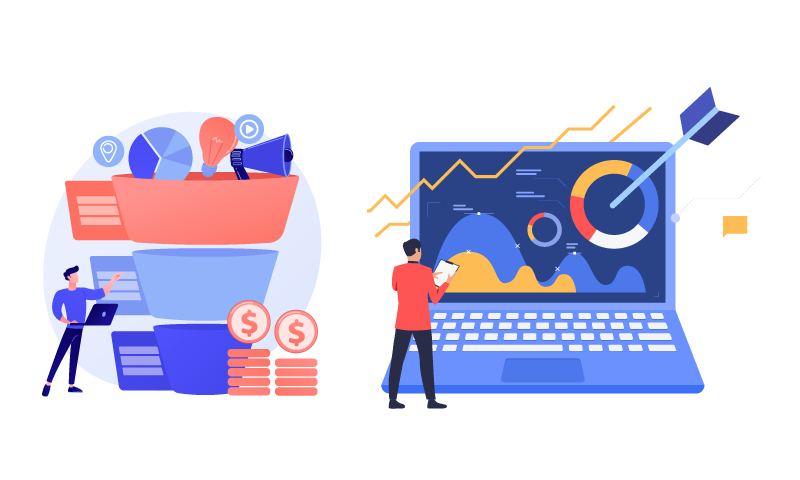 Implementing sales tracking software is the most successful sales strategy that can take your business exceptionally to the next level. With this powerful saas solution, you can streamline business processes and achieve business goals at the earliest along with an increase in satisfied customers. It makes business management easier for you by automating repetitive business tasks, visualizing sales funnels, and systematizing end-to-end sales operations closing all the loopholes. This Saas solution is completely user-friendly, and you can go for customizable versions for better and improved business functionality. Want to have a look at how sales team tracking software works and enhances sales? Here we go!
What is sales tracking software?
Sales tracking software helps businesses track, analyze and monitor the entire sales procedure from collecting orders to after-sale services. It helps business organizations to identify bottlenecks in the sales pipeline and resolve them within an immediate effect. Also, it pinpoints the areas of success in business processes and finds areas of improvement with the instance. Sales CRM software for executives empowers salespeople with ample features and assists businesses to make sure that their sales strategy is moving onwards in the right direction.
Why sales tracking software is important for business?
Sales management software is a modern sales strategy that manages everything in real-time considering time, cost and efficiency. It identifies potential leads immediately and tracks them quickly to make fast conversions and more sales opportunities. It supports team collaboration and allows businesses to coordinate field sales and remote working. Besides, it reduces human efforts in collecting business data and its manual processing. Overall, sales tracking software for sales reps manage sales processes more accurately and efficiently.
<
Features of the best sales tracking software platform include
Finding the best field employee tracking app is an intricate activity, and if you overcome this task, you can complete the first stage successfully. Sales tracking solutions offer plenty of features, and here we compiled a list of the best features on which you never compromise while choosing one. We hope that it will help you effectively while hunting for the right software for your business.
Lead tracking
There is no need to explain that lead tracking is one of the most vital processes of sales management. Tracking leads from capturing to conversion is essential for businesses as it can reveal customer behavior that is crucial for dealing with them in future business operations. Tracking also speeds up conversion rate and help you identify how to convince your leads with personalized services.
Real-time business insights
Real-time visibility to sales tracking helps business organizations manage ongoing sales performance in the sales funnel. You can validate the changing choices of your customers and satisfy them with personalized services. It will be helpful for you to find the gaps in the sales cycle and help your businesses be on track at the earliest. The real-time access to sales activities also helps sales forecasting and maximizing business opportunities.
Centralized data management system
With the best sales monitoring app, you can centralize all business data into one location. It will make sales tracking more easily for your sales teams. There is no need to carry paper files with you, or you don't find anything messy, as a single piece of data will be organized at the central database for easy retrieval.
Sales automation
Automation is badly needed for a business organization as taking care of sales tracking from lead generation to closing the deal is a complex and tedious task. With sales automation, you can streamline your business processes and manage the entire workflow. It frees up more time for your employees, and they can invest this time to focus on what matters in sales growth.
Real-time location access
Sales tracking software allows managers to track the live location of sales executives in real-time, accessing the GPS location. It will be possible right after the executive marks their attendance from a mobile device. Tracking executives can help businesses to control and monitor sales, reducing unwanted laggings and hindrances.
If you find a CRM solution with all these features, you can choose it as the perfect option for your business, and that's why Salesfokuz has become prominent in sales tracking platforms. It is feature-rich and has already developed industry-specific solutions for FMCG, manufacturing, banking sector, service industry, healthcare, real estate, and many more for enhanced productivity. You can customize this sales tracking software as per your requirements. It is incredible, intuitive, and flexible for any organization. Give it a try and close more deals faster.
Know More