Request Demo
Drop us your details we will get back to you soon!
How to push FMCG sales during this pandemic season?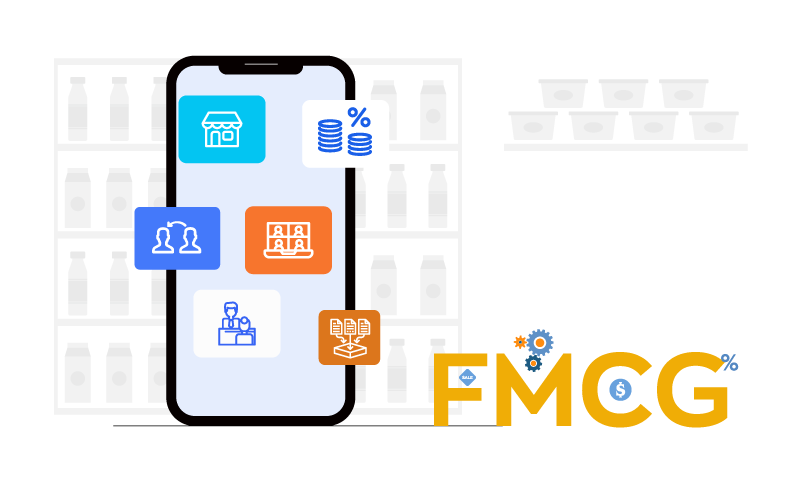 Since the pandemic has hit the world, there has been a need of hard struggles to manage everything. Business sectors, including financial operations, have stopped for a while, thinking about how to overcome this situation and when things will get back to life. Waiting to see the end of the pandemic season is not practical, so you need to find suitable remedies to continue your journey fighting against covid-19. Like any other business industry, FMCG sales also underwent difficult times executing sales, especially in rural areas. During this pandemic world, FMCG is one of the business industries people always rely on. Therefore FMCG sector needs to maintain service quality to attract customers. Implementing a well-functioning FMCG sales app is the best way to sustain this hard time as it helps regularise services and satisfy customer requirements.
FMCG sales tracking app is specially curated to manage sales in the FMCG business sector. It offers a wide range of features along with customization option. Pandemic or not, its features are exceptionally designed to forecast sales, plan sales activities and manage customers and their preferences. It can provide full support for your organization to monitor sales under any circumstances as it can act as a virtual office for managing businesses. Here, you are going to see how the FMCG sales app supports business during this pandemic season.
Updated sales plans and activities
Field service CRM software helps the FMCG sector pre-plan sales activities and assigns assignments to the sales executives to perform great in the field. The CRM-generated business reports help business managers to understand the current business status for planning business procedures to address pandemic crises more effectively.
Automated field force management
Automation of repetitive business tasks is the next advantage of using field force software. It helps you automate repetitive business tasks such as data collection and management within a few clicks. So you can cut down unwanted meet-ups and keep social distances to prevent the spread of covid-19 without affecting business functions. It also saves a lot of time; therefore, you can invest it in other productive activities.
Virtual office for managing sales
FMCG sales tracking software can act as a virtual office for managing sales activities from anywhere at any time. This Saas solution works based on a web-based dashboard, and mobile CRM software connects field employees and sales managers to the central location. Using Mobile CRM, the executives can take orders, and the same will get updated to the web dashboard. It can track all sales activities in the field, distribution of products, and field employee activities within seconds. Using this software, you can share business data with executives working far away locations. It can send notifications, reminders to the entire team not to skip any sales activities. It supports remote works during this pandemic time giving access to business data and attendance marking facilities.
Optimized inventory management
Managing inventory outflow and inflow is one of the most tedious tasks during this pandemic time. You can effectively manage this task with the help of a field staff tracking app. Stock and inventory managing executives can share updates with sales managers using this CRM software. Then the managers can take further steps to refill the stock with immediate effect. So, this feature can help seamlessly manage inventory, and thereby you can eliminate unwanted delays in production and sales because of inventory shortage.
FMCG sales tracking software is industry-specific and has inbuilt features to manage your sales uninterruptedly during this pandemic time. Using this, you can monitor the sales funnel and each stage in a sales pipeline. It provides complete assistance in tracking sales executives and organizes sales functions with proper business plans. Then, you can manage sales effortlessly, even during this pandemic season. Get your customized sales monitoring app at the earliest and close more deals faster.